How to Buy Out-of-Home Media for Advertising
Posted on: March 3, 2017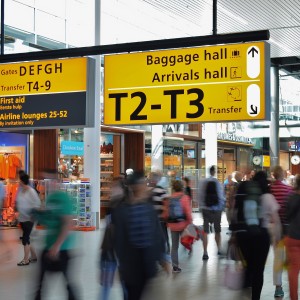 Out-of-home media refers to physical advertisements that visually reach consumers when they are outside of their home. Traditional out-of-home media include billboards and external signage. However, digital technology has also influenced what is included in out-of-home media. Television screens and internet connections are everywhere, which means that you have more chances than ever to get your brand in front of people.
Below are some of the ways out-of-home advertising agencies can help you craft an effective, lead-generating marketing strategy.
Why Use Out-of-Home Advertising?
Out-of-home advertising can be used to target people when they are on the go. When people are "on the go" there is less competition for their attention (such as the massive amount of ads that compete on mobile devices or TV). You can cast a wide net and advertise to many different demographics, or you can target specific places or events to reach a more niche audience.
Where Is Out-of-Home Advertising Effective?
Out-of-home advertising can be displayed almost anywhere. If you want to cast a wide net, consider placing ads on/in:
• Billboards
• Airports
• Shopping malls
If you want to target a more narrow demographic, consider placing ads in some of the following locations:
• College campuses
• Truck stops
• Stores & restaurants
• Sporting arenas
• Special events
You may prefer to advertise in a way that is not tied to a specific location. Out-of-home advertising offers a number of options that are not location specific. These include:
• Ads on public transportation
• Aerials & inflatables
• Digital billboards
Special Considerations
While some brands, products, and services can benefit from casting a wide net with out-of-home advertising, others are better served in places that are frequented by their target customer base. The effectiveness of out-of-home advertising can also be reinforced with digital marketing to ensure that customers receive ads on their mobile devices when they enter a certain store or restaurant.
We would love to help you develop an out-of-home advertising strategy that will drive leads. Contact us today!